Types of Braces
---
METAL
By far, the most common type of braces are metal. Metal braces are made with a high-grade stainless steel. Thanks to advances in technology, todays metal braces are more attractive, smaller, and much more comfortable.
3M CLEAR BRACES
Clear or translucent material is used to make these ceramic braces. Due to their cosmetic appeal, these braces are the most popular with adult patients. The elastic ties can discolor between appointments and they are slightly more fragile, which are the only two drawbacks to ceramic braces.
http://solutions.3m.com/wps/portal/3M/en_US/braces/unitek/types/clear-braces/
IN-OVATION R
Faster for you, in terms of treatment time, and faster for your orthodontist to apply, In-Ovation R is a state of the art new system of braces. They are smaller for great comfort and look fantastic! Another advantage is that they are easier to keep clean than conventional options.
INVISALIGN & INVISALIGN TEEN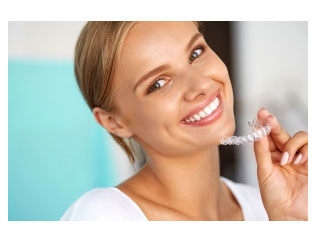 A series of clear plastic trays that are generated by high-tech computer software, they gradually move your teeth in to their desired position, the Invisalign system is one of the most popular treatment options available. Adult patients with particular bite issues can avail of this system, and the recent innovation, Invisalign Teen, has been specifically made with teenagers and their habits in mind. To find out if you are suitable for the Invisalign system, come in and ask us!